IRHT is administratively and financially totally independent from the Mulhouse Hospital (GHRMSA). Through the sustained support of public and private organizations, we can partly pursue our research.
The main granting partners are:
Public partners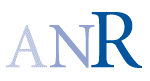 L'Agence Nationale de la Recherche
The mission of the National Research Agency is to implement research projects funding in France. On a competitive selection basis, which respects international standards, the Agency is committed to:
Contribute to science and technology development.
Promote the creativity, to streamline emergencies and partnerships.
Target research efforts on economic and societal priorities defined at the highest level of the country and in consultation with other research actors.
Promote interactions between disciplines.
Strengthen public-private links.


CONSEIL DEPARTEMENTAL/GENERAL DU HAUT-RHIN :
For many years, the "conseil départemental du Haut-Rhin" has joined forces with IRHT researchers by partially financing their research projects. These departmental aids are part of a dynamic and voluntarist policy which promote research development in Haut-Rhin.
The "conseil départemental du Haut-Rhin" has been the financial partner since 2004 of the project relating to the study of myocardium injured after infarction regeneration. It provid 50% of the project funding, the other half is being financed by the IRHT. The grant allowed the remunerations of 50% of one researcher and one technician position, as well as the purchase of small equipment, reagents and consumables.
The department of Haut-Rhin also allocated a grant for the years 2014 to 2016 to the IRHT for the realization of two research projects:
The study of stem cells differentiation into cardiac cells and their subsequent therapeutic use.
The study of the erythropoietic differentiation of hematopoietic stem cells from patients with Myelodysplastic syndrome.
Our partnership will continue through new applications for grants.
Conseil Départemental du Haut-Rhin,
100 Avenue d'Alsace, BP 20351, 68006 Colmar Cedex
Website: www.haut-rhin.fr


The Jérôme Lejeune Fondation, recognized as a public utility, has three missions: Research, treat, defend. It continues the work and commitments of Professor Jérôme Lejeune, discoverer of trisomy 21: research on intellectual impairments of genetic origin (trisomy 21, X fragile, Cry of the cat, Rett syndrome, Angelman, Prader Willi, Williams Beuren etc.), the reception and care of people suffering from these pathologies by a specialized medical consultation, and the defense of life. https://www.fondationlejeune.org/
Privates partners

CellProthera is a French biotech company founded in April 2008 in Mulhouse. Its activity is focused on the development of an innovative therapy concept for tissue repair after severe myocardial infarction. It consists in the automated production of an adult stem cells graft from the patient's own blood, followed by reinjection directly around myocardial lesion. This therapeutic approach is now registered by the European Health Authorities as a cell therapy medication entitled ProtheraCytes®.
To date, a European Phase I / IIB clinical trial has already started and a further trial will be carried out in the coming months in Singapore. Next, a phase III will follow in both Europe and North America.
Professor Philippe Hénon, Chairman and Scientific Director, heads and manages the scientific research of CellProthera. He is supported by Matthieu de Kalbermatten, CEO, and by Jean-Claude Jelsch, Chairman of the Supervisory Board. CellProthera has a leading team with complementary scientific, clinical, pharmaceutical and financial expertise. Its skill has been praised by several national and regional innovation awards as winner of the National Competition for the Creation of Young Innovative Enterprises OSEO/Ministry of Research 2008, Start Est 2008, the Excellence Award at the 6th Trophy of Innovation awarded in 2009 by the Mulhouse Technopole and C2EI Alsace, the Biotech Prize of Avenir Grand Est, awarded in 2013 by Deloitte France and the UBISTART 2014 Award, from UBIFRANCE & the Galien Foundation of New York.
CellProthera's privileged partner, IRHT is at the origin of most of the achievement's and scientific knowledges of CellProthera. In addition, CellProthera develops in partnership with a consortium of French companies and IRHT, the Industrial Strategic Innovation Project "CARDIOSTEM" under the aegis BPI France.
Website: www.cellprothera.com

ARPEGE PRÉVOYANCE is a major player in Social Protection in Alsace with expertise in the areas of health, accident insurance, and retirement thriftiness. Since several years, ARPEGE has been one of our important partners by funding an innovative project on adult pluripotent stem cells. This project aims to develop embryonic-type cells that can be isolated in adults or in umbilical cord blood. These cells could be used as cellular sources for regenerative medicine without ethical problems. Through this partnership, concrete progress in the understanding of these cells biology has been achieved by our researchers.